Top Luaus in Oahu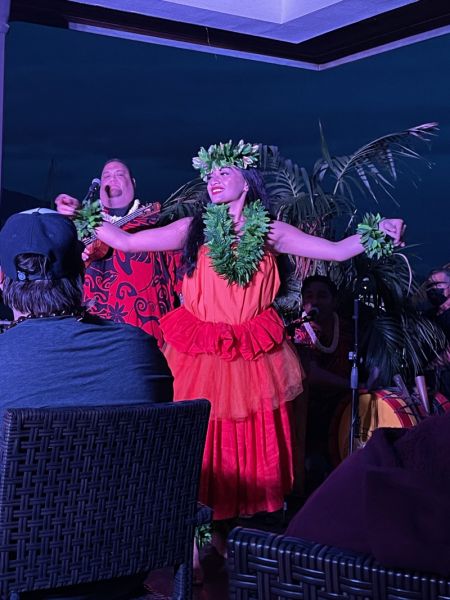 If you come to Hawaii, you should definitely join the Mele Luau Oahu. "Luau" means "banquet" in Hawaiian. It's the perfect event if you want to have a memorable night in Hawaii. We are one of the most recommended Hawaiian shows and events on Oahu, including luaus.
Our show includes hula, Tahitian dance, fire dance and we. are impressive! We are an interactive cast, so children can also participate, and you can enjoy learning about Hawaiian culture. It's definitely a wonderful memory of Hawaii, and it's a great entertainment for families during the summer vacation.
Best Luau in Honolulu
Every Monday, Tuesday and Wednesday evening, a dinner show at the Coral Crater Adventure Park Mele Luau grounds are performed . Enjoy entertainment from the South Pacific islands, including drums, fire knife dance, and Hawaiian cuisine.
From meals to shows, the event lasts about four hours. Get up close and personal with a spectacular show in the courtyard facing the beautiful Kapolei sunset. Seats vary depending on the pricing tiers, but all are good seats.
Travelers' reviews are also positive, and if you are staying at Ko Olina or in Waikiki, take advantage of our transportation and you can enjoy a cocktail with the show and get back to the hotel safely, so it is a recommended show.
Best Luau Near Waikiki
Enjoy breathtaking fire dances, ornate Polynesian dances and songs. For dinner, enjoy a great meal in a relaxed open-air atmosphere. It is a perfect event for families with children, as you can experience Hawaiian music by live music, flower lei making, bark cloth "Kapa", Polynesian tattoo and so on.
Define Luau
Luau (actually pronounced luau), does not refer to people gathering, but to taro leaves and a dish of taro leaves simmered in coconut milk . It is said that it was around 1856 that an event like the present day where people gather and eat and drink together was called Lūʻau, and it was a celebration after the wedding of Kamehameha IV and Queen Emma. Is called Lūʻau in the newspaper "The Pacific commercial advertiser" at that time.
Luau Meaning in English
Prior to that, similar celebration seats and places where people gathered to eat and drink were called Ahaina (ʻAhaʻaina-ʻaha gathering, ʻaina meals) or Pāʻina. The word Lūʻau was replaced by the fact that dishes made with taro leaves were often served at parties, and that it was easier for Westerners to say luau than Ahaina or Paina. It seems that.
The Largest Luau in Hawaii's History
Luaus are held throughout Hawaii, with approximately 300 to 800 people enjoying shows and dining, depending on the size of the venue. It's a big enough party at this scale, but a record luau that surpasses that number was held in 1847.
Luau Party Meaning
Prior to this luau, in February 1843, the Royal Navy's George Paulette temporarily deprived Hawaii of sovereignty. Five months later, on July 31, the Commander of the Pacific Ocean, Thomas, headed to Hawaii, proclaiming the maintenance of the independence of the Kingdom of Hawaii and the sovereignty of the Kingdom of Hawaii. In Hawaii, this day is called the Restoration Day (Sovereignty Restoration Day). On July 31, 1847, Ruau, celebrating the Restoration of Sovereignty, was held at Kamehameha III's summer capital, Kaniakapūpū, in Nuuanu, Oahu, where 10,000 people participated. It has been. Let's take a look at the ingredients prepared for this luau.
pigs 602
chickens 3 bulls
1820
fish salted
3125 fish
55 duck
55 turkey
180 octopus
taro 4,000
coconut 2245
banana 80 bunches
pineapple 55
poi, 482 large bowls
of salted pork, 3 barrels of
biscuits, 2 barrels
of taro leaves and cabbage,
12 barrels of potatoes
You can see that the luau was larger than you could imagine. Later King Kalakaua also held a feast to celebrate his 50th birthday over the two weeks of November 16-29, 1886. Approximately 1500 people (of which 1000 are believed to be Hawaiians) were invited to the luau at Iolani Palace, including invited guests from the general public, and 500 people each arrived at the table and enjoyed their meals.
Since ancient times, Aha Aina has been an opportunity for people to get together and eat together, and Aha Aina goes to a luau. There have been gorgeous luaus held by the royal family to entertain foreign guests, as well as ordinary people, weddings, birthdays, and other luaus where families and relatives gather. The luau, where you can inherit and experience traditional Hawaiian cuisine and culture, has evolved as a tourist-oriented luau as Hawaii develops as a tourist destination.
The dishes served in modern luaus include teriyaki chicken / beef, salads, white rice, taro bread, and cakes, and some are tailored to the tastes of modern people. The basis is traditional food (calapig, poi, laurau, poke, steamed sweet potato, squid luau, haupia) as well as ancient Hawaiian luau.
When you arrive at the Mele Luau Oahu Ko Olina venue, you'll sit next to people other than your family and friends at the long, old-fashioned side-by-side table. In one corner of the venue, there will be a culture experience, such as lei making and hula dancing, and on stage Hawaiian music, hula and stunning fire knife dance will also liven up the venue.
Come to Mele Luau Oahu Ko Olina! Book your tickets today.