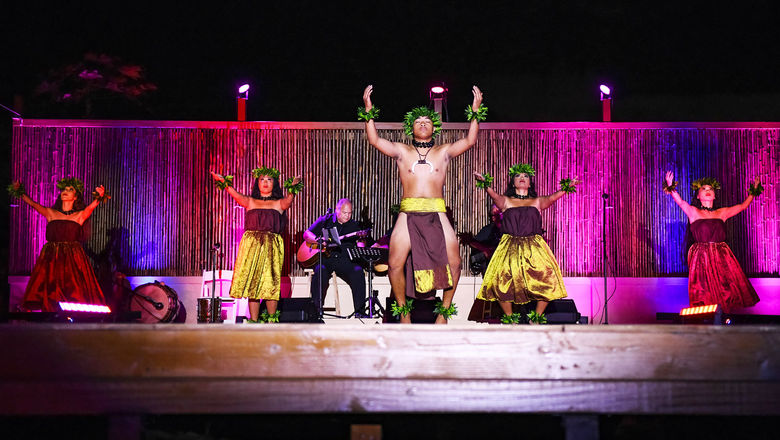 The Mele Luau follows Tamatoa as he searches the Pacific Islands for the woman of his dreams. Photo Credit: Courtesy Mele Luau
Mele Luau, which opened last month at Coral Crater Adventure Park in Kapolei, 30 minutes from Waikiki, offers everything expected at a luau: food, drinks and a show. But this luau also prides itself on operating sustainably.
"The production is an ecofriendly luau," said Larry Pellegrini, producer and creative director of Mele Luau. "We use only solar energy, and we work hard to make sure that all of the elements of the physical production are used and given back to the land. We have goats and chickens on property who receive the benefit of the dinner's leftovers."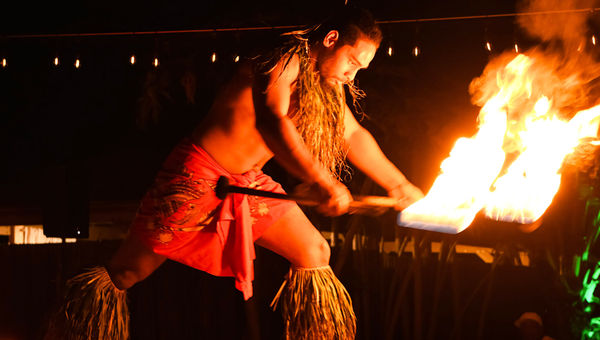 The Mele Luau ends with a medley of fire knife dancers. Photo Credit: Courtesy Mele Luau
An intimate venue space, the production was entirely created by Hawaiian locals who love the culture and, especially, hula. Family also participated in the show's creation.
"We have amazing choreographers from Maui who have worked with two local choreographers on Oahu to create all the dances based on their specific cultural heritage," he said. "Our stage was built by the choreographer's father who flew to Oahu on the weekends. He took three months to build the stage, two dressing rooms and a lighting booth that looks like a treehouse."
The evening begins with a shell lei greeting, a welcome drink and preshow activities that visitors can take part in, including poi ball twirling and making front hats from trees on the property. The imu ceremony is next, where a cooked pig is taken out of the underground oven. This marks the start of the dinner — an all-you-can-eat buffet of kalua-pig sliders, teriyaki chicken, mahimahi, macaroni salad, haupia for dessert and four signature tropical drinks.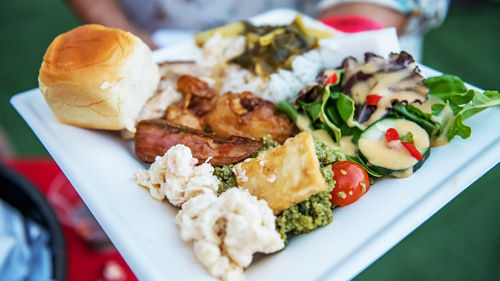 Some of the food offered at Mele Luau's all-you-can-eat buffet. Photo Credit: Courtesy Mele Luau
The show is a love story that follows the male character, Tamatoa, as he searches the various Pacific Islands for the woman of his dreams. After traveling to Samoa then Aotearoa (New Zealand), he arrives in Hawaii where he finds her.
"It ends with a fire knife medley that showcases three generations of one family that has been honing their fire knife skills for many decades," Pellegrini said. It also features original songs by Kaniala Masoe, a Na Hoku Hanohano-nominated writer and performer.
The luau lasts three hours, and transportation is available from Waikiki and Ko Olina. Prices start at $119.97 per person.
Mahalo to Travelweekly.com for this great article